What Is Reflective Sheeting?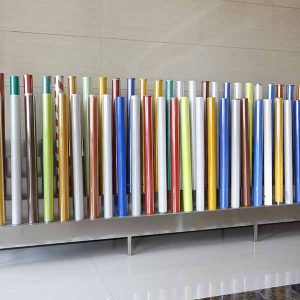 Reflective sheeting is a kind of thick layer film with micro glass beads or artificial prisms on the surface. The surface layers of micro glass beads and prisms are used to achieve the retro-reflective function.
How does reflective sheeting work
When there is a light on the surface of reflective sheeting, the light will through multi reflections between the glass beads or prisms, until this light is reflected in the direction of the original lighting.
The principle of reflective sheeting works looks like throwing a ball into the round room, whether you throw it from any angle, finally the ball will return to the only exit in the room. Hence, the reflective film can reflect the light back into original lighting, with a warning since, widely used for safety purposes on the highway, or in construction places.
Why Reflective Sheeting
Reflective feature
Reflective sheeting has a reflective feature, that can remind the drivers to realize the road situation earlier when getting the reflective light on the reflective film.
Helping the drivers get a good vision on the road is a very important point to reduce traffic accidents.
Processing feature
Besides of reflective feature, the reflective sheeting also is divided into different types. Diamond-grade reflective sheeting, high-intensity reflective sheeting, license plate-grade reflective sheeting, and engineer-grade retro-reflective sheeting. They can be plotter cutting, UV printing screen printing, hot stamping, embossing, or multicolor printing.
When reflective function plus kinds of printing, and embossing features, the reflective sheeting access more possibilities in different applications.
Excellent weather resistance feature
Meanwhile, the
reflective sheeting
has an excellent weather resistance feature, can keep the reflective feature for a long time, with less reflective fading even works under the harsh conditions all the time.
Application of reflective sheeting
Conspicuity Tape
Number Plate
Traffic Sign
Mining Sign
Advertisement Sign
Traffic Cones
Barrier tape stickers
…