Why Need Different Reflective Vest?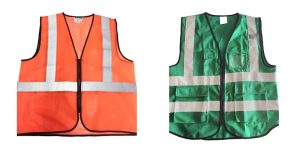 We often see front-line staff wearing reflective vests, some wearing yellow reflective clothing, some wearing reflective vests with red reflective logos, and black reflective clothing.
Why does reflective clothing have such a color classification?
Let's know the answer to the below case:
Different Color Reflective Vest
The composition of the members of the electric power industry's special production electrician's special vest plays a very good role in actual use.
The special reflective vests for electric construction workers are mainly used in the all-weather work process, which is mainly reflected in the conspicuousness and promptness of outdoor operations and the indication of their own positions.
Generally, it can be divided into red and white warning vests, red and yellow vests, black and yellow warning vests, or orange according to the styles of reflective vests.
The alias of the electric reflective vest: reflective clothing, reflective vest, reflective work clothes, etc. have a strong nighttime indication effect, and nighttime construction rescue not only reminds pedestrians to pay attention to safety but also protects their own safety.
Different Style Reflective Vest
The reflective vest can be adjusted in size through the adhesive buckle from the bottom reflective strip, which is basically suitable for all people to wear. Eliminate the requirement of size.
Even some safety vest manufacturers support DIY customization, the front and rear fonts of the reflective vest can be designed and printed according to your requirements, using high-intensity reflective materials fabric to ensure the content of the fonts can be clearly seen at night.
Finally, what do the different color reflective vests mean?
Reflective vests can not only have a good warning effect but also have a variety of colors, which can be divided into jobs according to colors:
Under normal circumstances, red [indicates] security inspectors, blue [indicates] technology, and orange [indicates] safety supervision.
According to the different colors of the safety vest, the electric power industry or other industry which needs work in the poor night environment. They will need to customize processing and printing safety supervision, safety supervision, safety officers, team leaders, etc.
No matter what. Safety is no small matter.
One small step, one giant leap for safety!